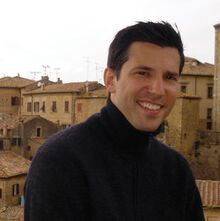 Matt Myklusch is an American author that writes middle-grade books, mostly known for the Jack Blank Adventures trilogy.
Personal Life
Edit
Originating from New Jersey, Matt grew up wanting to be a comic book penceller. Unable to go through with that dream, he focused on his other one: writing. While not able to focus on it from the start, Matt worked for MTV Networks for at least a decade, booking and producing celebrity interviews, launching mtvU, and even managing Spring Breaks in Panama City, Cancun, and Alcapulco. However, he's never stopped writing and drawing, and has finally set his life and career to it on the Jack Blank Adventures trilogy and the Seaborne series.
He currently lives in New Jersey with his wife and family.
Jack Blank Adventures
Edit
Seaborne
Edit
The Lost Prince
Strangers in Atlantis
External Links
Edit